Sale!
The Mediterranean Diet eBook Bundle
Experience the Benefits of the Mediterranean Diet with our Comprehensive eBook Bundle
Savor the Flavors: Elevate Your Health and Satisfy Your Taste Buds with the Mediterranean Diet eBook Bundle
The Full Package: This bundle includes one comprehensive eBook, four recipe eBooks, three 7-day Mediterranean diet meal plans (21-days), a meal prep guide, and more! All together, that's 320+ pages of content!
No Expertise Required: We've done the hard work to help you simplify a healthy eating plan that tastes great and is achievable.
Learn from a Pro: Our Registered Dietitian Nutritionist combines the science of nutrition with the delicious taste of the Mediterranean Diet in this comprehensive bundle.
Satisfaction Guarantee
Secure Checkout
No Extra Fees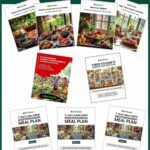 The Mediterranean Diet eBook Bundle
Your review
* Review is required
Email
* Email is required